KOFICE 'Korea Joa Project': Hangul Celluloid Travelogue
Gyeongbokgung Palace / Korean Food & Culture Academy / Namsan Tower
Monday, 5 October 2015:

Gyeongbokgung Palace:

As usual, and for the duration of the Seoul section of the Korea project, Monday 5 October began with a lavish breakfast in the Ritz Carlton Hotel after which the Korea Joa members gathered, boarded the KJ Project coach and headed out for the day's activities, the first being a visit to Gyeongbokgung Palace.

Built in 1395, Gyeongbokgung Palace is commonly referred to as the Northern Palace because of its location being further north than either Changdeokgung Palace (Eastern Palace) or Gyeongheegung Palace (Western Palace). Gyeongbokgung Palace is also the largest of Korea's palaces and is felt by many to the most strikingly beautiful. Areas of the palace were destroyed by fire during the Imjinwaeran War (Japanese Invasion, 1592-1598) but all of the palace buildings were later restored during the reign of King Gojong (1852-1919). Remarkably, Gyeonghoe-ru Pavilion and Hyangwonjeong Pond – perhaps the most representative edifices of the Joseon Dynasty – have remained relatively intact throughout the palace's history.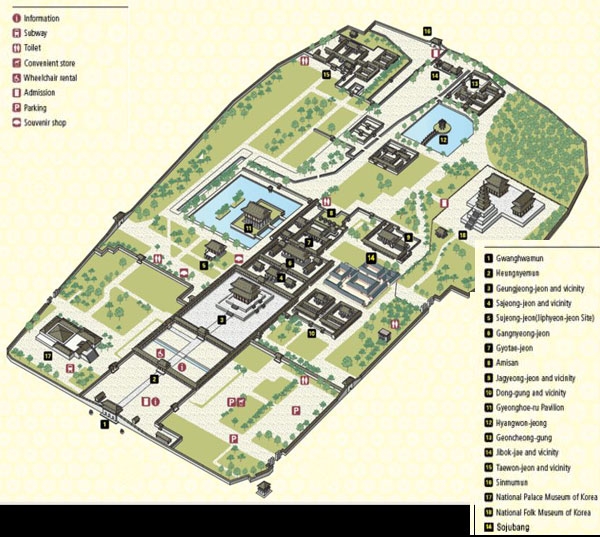 The first thing that becomes immediately apparent on entering Gyeongbokgung Palace is the sheer scale of the site as a whole. It's absolutely huge, to the extent that you could virtually spend an entire day walking around the striking buildings in their jaw-droppingly beautiful surroundings and still have more to see. From the sheer opulence of the king's residences to the houses of his wives (diminishing noticeably in size in order of the women's importance), every building has a story of Joseon Dynasty royal hierarchy and etiquette to tell, many of which speak for themselves without much prior knowledge being necessary.
However, for me the most strikingly beautiful areas of all – in the entire palace – are Gyeonghoe-ru Pavilion and Hyangwonjeong Pond (shown in the first image below), so beautiful on a day of perfect October weather, in fact, that in hindsight I'm almost surprised the Korea Koa co-ordinators were actually able to convince me to leave, when the time came.

*Further images taken during the visit to Gyeongbokgung Palace can be found in the stills compilation video at the end of this article*
Korean Food & Culture Academy:

Next stop, with the beauty of Gyeongbokgung Palace still cavorting around my head, was a visit to (and cooking class at) the Korean Food & Culture Academy, a cooking school run by food director Kim Su-jin.
I've spoken several times in these Korea Joa travelogue articles about the merging of cultural fields within varied K-Culture events and the regularity with which Korean film forms an integral part of other seemingly separate cultural areas. Those statements and ideas were clearly on show at the Korean Food & Culture Academy for while Kim Su-jin's name may be unfamiliar to many, her work as Food Director on many well known Korean films (Chronicle of a Blood Merchant, The Royal Tailor, Memories of the Sword, Portrait of a Beauty, The King and the Clown, Le Grand Chef I & II) means that her culinary expertise has been seen virtually anyone who has watched K-films noticeably featuring or focusing on food within their narratives.

The visit began with an introduction by Kim Su-jin into the history of the Korean Food & Culture Academy and work on the numerous films mentioned above, but while she is clearly proud of the film work she has been involved in, on a number of occasions during her talk Kim Su-jin (almost excitedly) mentioned the healthy nature of Korean food, to the extent that it soon became obvious that her focus is Korean food itself.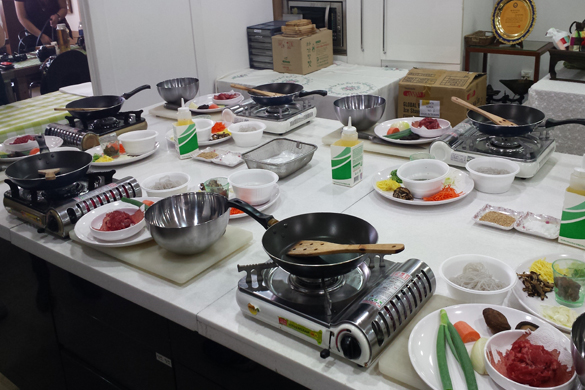 The subsequent cooking class involved the Korea Joa members being instructed in the art of making Bulgogi and Japchae and then let loose to make their own. Anyone who knows me personally will be able to tell you that I rarely cook. I honestly feel that in life we all deserve to be able to treat ourselves on a regular basis and for me that treat often takes the form of a meal in a Korean restaurant. Lazy? Perhaps, but I've never been all that good at culinary exploits and, frankly, I enjoy the (I feel, deserved) treat of having a meal made for me, served to me, with the dishes being taken care of by someone else and in doing so I pretty much know I'll actually be able to eat the food placed in front of me, which I certainly couldn't be sure of if I made it myself. As such, more than any other Korea Joa event, this cooking class threw me out of my comfort zone to the nth degree.
So, how did I get on? Not bad, even if I do say so myself. The food made by yours truly was certainly edible though I do have to admit to having had a great deal of help from Korea Joa interpreter Jen, who for a fair part of the food preparation time seemed entirely convinced that I was about to slice off a finger instead of cutting a carrot. You may ask if my fair success now means I now cook Bulgogi at home. Well, not really. A treat is still a needed treat in my mind and the only thing that has really changed is that I now think "I could make Bulgogi if I wanted to but I'd still rather go to a Korean restaurant."

After a brief stop-off at the National Theatre of Korea (filming location for the final scene in television drama My Love From the Star), with a couple of the Korea Joa members taking it upon themselves to jokingly reinact the drama's closing scene, the day's final visit was to Namsan (N Seoul) Tower, as well as dinner in The Place restaurant in the tower's dizzying heights. Namsan Tower is 243m high with a surrounding elevation of 479m, and from its observation windows (around the entire tower) the entirety of Seoul is on view. Striking during the daylight hours, Namsan Tower comes into its own as dusk falls with the shimmering lights of a city that never sleeps seeming almost like terrestrial stars plucked from the very sky.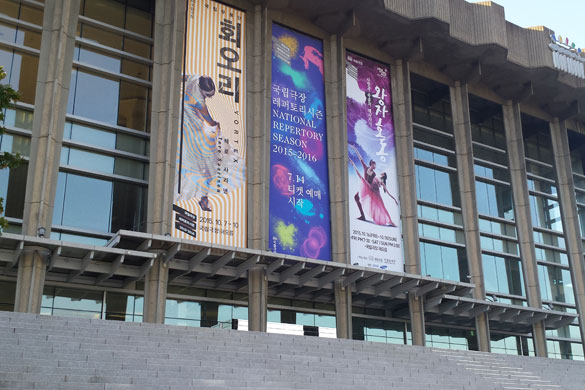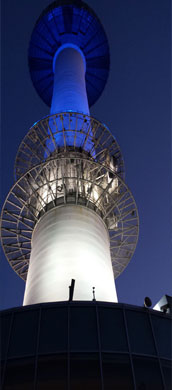 As with many of the areas visited during the Korea Joa Project, written description of the beauty of views from Namsan Tower can never give a full idea of the amazing sights available and as such the stills compilation video below also includes some pictures from the tower's observatory.

Click the links below to access the other Hangul Celluloid Korea Joa Travelogue articles, on a day-by-day basis: