KOFICE 'Korea Joa Project': Hangul Celluloid Travelogue
Haedong Yonggung Temple / Gwangalli Beach Night View
Friday, 2 October 2015:

If a wise old sage cum fortune teller had told me, prior to my KOFICE October trip to the Peninsula, that within the first couple of days of the Korea Joa Project I would have seen Son Ye-jin, Jeon Do-yeon and Moon So-ri walk past in person within minutes of each other at the 2015 BIFF Opening Ceremony, I would have dismissed the prediction as fantasy; deemed the soothsayer to be an utter charlatan; stated at length how incredibly unlikely such an occurrence would be; and pointed out that such an event alone would make the Korea Joa Project utterly worthwhile for me. So, the fact that all of the above (apart from the fortune teller bit) did indeed take place before my very eyes was, and is, difficult to fit into my head to say the least and was virtually all I could think about as the subsequent day of the KJ Project got underway.
As such, as we headed to Haedong Yonggung temple after the screening of 'The Silenced' and Q&A with Park Bo-yeong and Park So-dam (also unmissable, in spite of my issues with the second half of the film), I assumed we were simply temporarily replacing the regal allure of Korean actresses with the beauty of an area steeped in traditional Korean religious culture.



Having been born and raised in Northern Ireland during less than peaceful times, discussions of religion had for me always been suffixed with mention of 'the Troubles' that took place in the Province from the 70s and as such from an early age I rather separated ideas of spirituality from those of organised worship. Likewise, even though I had regularly been taken to church as a young child – imagine those mothers you often see dragging their grimacing kids up the street by the hand, ever so slightly faster than their legs allow, and you'll get the idea – church buildings never held any real religious meaning for me and, though many were certainly ornate and visually impressive, to me they were just places for congregations to gather rather than having any particular spirituality inherent to them.
So, on entering Haedong Yonggung temple on a day of absolutely perfect blue sky weather, I expected to similarly simply see beautiful buildings where traditional Korean religious practices had taken place.
However, Haedong Yonggung temple ultimately proved itself to be far more than just the sum of its parts.



Built in 1376 during the Goryeo Dynasty, Haedong Yonggung Buddhist temple (해동 용궁사) is located in Gijang-gun, Busan. Unlike most other Korean temples – which are to be found somewhat hidden away in mountain areas – Haedong Yonggung is situated at the seaside, near Haeundae Beach and the east side of Busan, and as such is a popular tourist destination. The temple is one of '3 Sacred Places' related to Buddha who is said to live in solitude near the sea (hence its fairly unique location) and though it was decimated by fire during the Japanese occupation of Korea, the temple was rebuilt in its entirety in the early 1930s.
It is also said that for visitors to Haedong Yonggung temple "at least one of your wishes will be answered here through your heartfelt prayers".

On entering Haedong Yonggung temple, audio of Korean monks chanting can be heard through a number of speakers hidden away behind foliage etc. but while these tapes (if you will) give a feeling for the worship and prayers carried out by Buddhist monks, it is only after the sounds fade away – as visitors make their way inside – that Haedong Yonggung reveals what it truly has to offer.
For, while the buildings are indeed stunning and the surroundings idyllic, there is a feeling about Haedong Yonggung temple that cannot easily be put into words. A noticeable serenity pervades the entire temple and I'd go as far as saying that you can almost feel spirituality in the air. Sure, maybe it is simply the beauty of the area and the expansive views of the sea seen from a high, rocky vantage point, but for me there is far more to the temple – some might even say something 'otherworldly' – than just a collection of buildings. And from the look on the faces of other visitors there on the same day, I'd almost guarantee they'd agree with that statement.



And what of the temple's motto "at least one of your wishes will be answered here through your heartfelt prayers"?
One of the Korea Joa interpreters finally convinced me (after I repeatedly and protractedly declined) to stand in front of a statue of Buddha – seen above – and think of what I really wanted. Though I wasn't given what I half-heartedly 'asked for' (the first thing that came into my head, to be honest), in hindsight I did later experience something far, far more 'heartfelt' in Korea. Again you could say it's just coincidence, just 'one of those things', or maybe, just maybe, you could ask yourself if the temple's motto has perhaps more to it than simply uplifting words and ponder the question of whether the heart ultimately speaks more loudly and clearly than the head in calling for a wish to be answered.
Friday 2 October 2015 concluded with a 'Gwangalli Beach Night View' ferry trip around, funnily enough, Gwangalli Beach and the surrounding areas of Busan:
Admittedly, each of the KJ Project members having to give their date of birth prior to the ferry trip for health and safety reasons - and as such everyone finally realising how much older I was than any of the others - wasn't the easiest thing for me, to say the least, but once I'd put that fact as swiftly as humanly possible to the back of my addled brain, this relaxed and gentle ferry ride under cover of darkness allowed sight of the distant city lights shimmering in the background of neon lit bridges reflected in calm waters.
The utterly arresting views forming a perfect end to the day's proceedings caused me to naturally start thinking of the incredible experiences of the Korea Joa Project up to and including this point.
For me, a feast for the eyes accompanied by a personal soundtrack in my mind.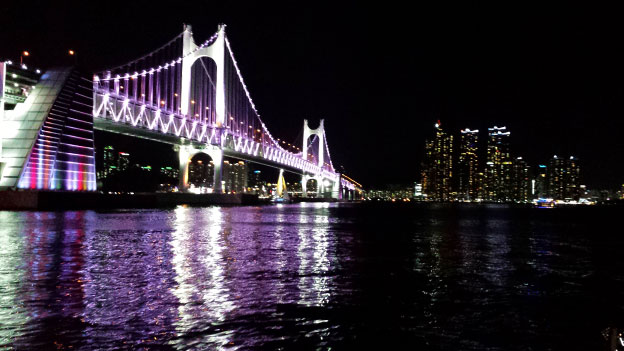 No images can come close to encapsulating what it's like to experience Haedong Yonggung temple and the Gwangalli Beach Night View ferry trip in person, but I hope the numerous still camera images forming the following video will at least give an idea of the sheer beauty and serenity of both.
Haedong Yonggung Temple / Gwangalli Beach Night View - Friday, 2 October 2015:
Click the links below to access the other Hangul Celluloid Korea Joa Travelogue articles, on a day-by-day basis: