"You know what kind of plan never fails? No plan at all. You know why? If you make a plan, life never works out that way.
With no plan, nothing can go wrong... and if something spins out of control, it doesn't matter.
Whether you kill someone or betray your country, none of it f*cking matters..."


Synopsis:
Kim Ki-woo lives with his mother, father and sister in one of a number of cramped, dilapidated 'semi-basement' apartments in a rundown area of Seoul. Impoverished in the extreme, the family struggles to survive on the pittance received for assembling pizza boxes from home, having to resort, not least, to stealing neighbours' Wi-Fi to even search for other similarly menial work.
On a day that the family is docked ten per cent of its already meagre pay, Ki-woo is visited by his friend, college student Min, who as well as giving him a large landscape rock said to bring the owner wealth and prosperity suggests he should take over the English tutoring of a high school girl from an ultra-wealthy family. Ki-woo, of course, jumps at the chance and immediately sets about enlisting the help of his sister, Ki-gung, in forging university documents for his interview with the girl's mother.
However, while he is sure his new fraudulently obtained job will bring him decent financial reward, on meeting the schoolgirl, Da-hye, and her mother, Yeon-kyo, Ki-woo begins to forge a far more intricate and elaborate plan which, if successful, will be significantly more lucrative...


Review:
It almost goes without saying that Bong Joon-ho is one of the most well respected and indeed renowned directors working in Korean cinema today and internationally his fame precedes him more than virtually any other, save for Park Chan-wook and perhaps to a slightly lesser degree Kim Jee-woon.
While from as far back as 2003 Korean film cinephiles were already fully aware of Bong Joon-ho's directorial talent thanks to Barking Dogs Never Bite and Memories of Murder, international accolades came far more as a result of the huge success of The Host in the West, further cemented by the fame accompanying his international dual language works Snowpiercer and Okja.
However, for many Korean film fans it is Bong's domestic, fully Korean language films that stand to a greater degree as truly seminal examples of his directorial skill and creativity with a not insignificant number including myself believing Memories of Murder is one of, if not the, best Korean film ever made; its main competitor for that honour being Kim Ki-young's The Housemaid from 1960.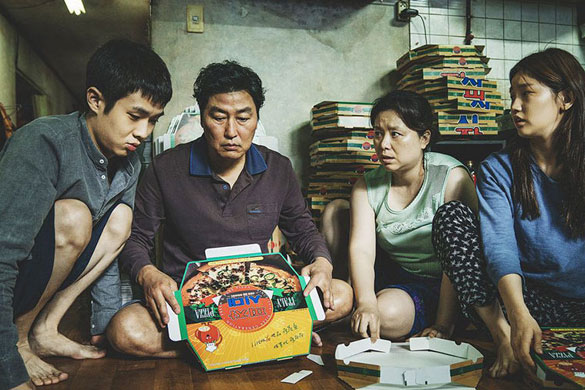 As far as Parasite is concerned, Bong Joon-ho's film-making and storytelling prowess positively screams out of the narrative throughout, character profiles deftly built within the gradual unfolding of the story by way of depictions of how the Kim family's individual members work as an ever close knit team to solve or circumvent daily dilemmas and try to capitalise on (albeit rare) opportunities. From the very outset, the family's impoverished existence is laid bare in no uncertain terms whether overtly through demonstrative actions or passingly through unspoken visual pointers. For example, in the opening seconds of the story the camera pans down inside the family's basement apartment past some greying socks hanging from the ceiling on a dilapidated rack at window level, clearly having been put there out of necessity rather than design. Passing pointer given, the first overt demonstrative action quickly follows as the camera continues its downward motion to find Ki-woo trying to get a free Wi-Fi signal on his phone, vocalising his aggravation and indeed involving the entire family when he discovers the neighbour whose Wi-Fi signal it is has password protected it.
These passing pointer/overt demonstrative action combinations continue through the next few scenes to bring to light everything we need to know about the Kim family (personal, familial and societal) without us even really consciously realising it and indeed before Parasite's true story steps to the fore. As such, in no more than a few minutes from the film's beginning we are fully aware of the family's dire financial situation, or more accurately the almost utter lack of any kind of a financial situation (not least that the family is so poor Ki-woo and Ki-gung have no hope of ever going to college, their futures thereby becoming a mirror of their parents' being virtually a self-fulfilling prophecy); we learn the lengths they'll happily go to get something for nothing (Ki-woo and Ki-gung clamouring into the most inaccessible parts of the apartment just to find a new unprotected Wi-Fi signal, or the decision to leave the basement windows open to get free pest control while exterminators are spraying outside, in spite of the fumes almost choking them, etc.); we see Ki-woo's skill at being able to talk anyone into almost anything (e.g. succeeding in securing himself a job interview at the pizza company just moments after the owner has vehemently complained about the family's shoddy pizza box assemblage); and we soon understand the close-knit, somewhat conniving team mentality of the family as a whole, shown repeatedly in virtually all of their interactions and indeed in their obsession with 'plans' – Again within the first ten minutes of the narrative different family members note the importance of having a plan, or one asks another what their plan is, no less than three times and these statements are further repeated as the narrative progresses.
All of the above traits and the like are absolutely vital to the success of the story in later stages as events become more intricate and even calamitous and as such ensuring viewers are entirely au fait with them from so early on allows the story to effortlessly build on an understanding already established.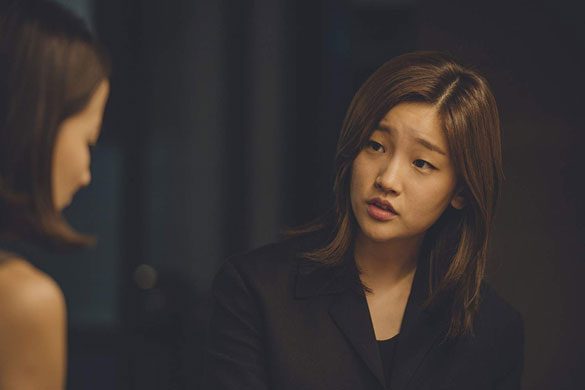 A similar set-up is equally deftly utilised to introduce the rich Park family although to a lesser degree in terms of passing pointers, their wealth by its very nature making them more openly overt and 'showy' but here too contrasts are clearly apparent not only in terms of rich vs. poor but in the differing manner in which each tries to manipulate the other to its own ends. Not only that, but the narrative also repeatedly uses these differing personality traits and character interactions to point to the gaping chasm that exists between rich and poor and each's (somewhat twisted) perception of the other.
Case in point: As part of a contrasting of Ki-woo's family's perception of the ultra-rich and Da-hye's family's thoughts on the poor, Da-hye's repeatedly makes mention of a specific character's (from his point of view) nauseating odour. However, as we ultimately discover, he finds that odious smell present when he's in the presence of any and all of the film's financially impoverished characters. Sure, this is a genuinely funny, tongue in cheek, recurring narrative element vital to the film's conclusion but it also stands as allegory for possible real life societal perceptions and assumptions of poor by rich and a pretty searing one at that.
Certainly, the Park's family wealth and perceived power plays a huge part in their not so veiled condescending 'better than you' nature and the Kim's sheer lack of financial acumen has made them opportunistic almost by default but each uses the other without hesitation to a virtually equal degree, each too believing justification for any and all actions comes from their position (rich perceived entitlement and poor perceived need).
Ultimately, different they may be but parasites they one and all are nonetheless.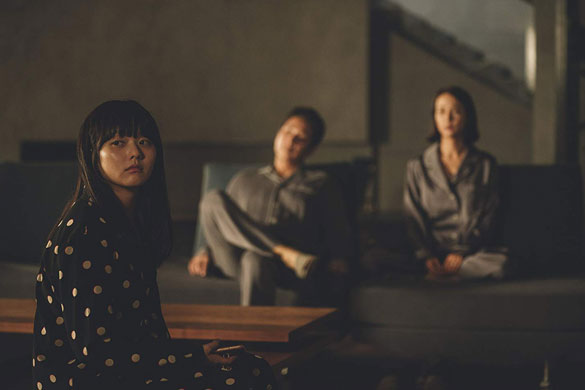 One of Bong Joon-ho's many, many fortes is, of course, his innate ability to infuse storylines with both serious themes and genuinely funny black humour across genres and in fact he played a significant part in the narrative combination of Love, Loss and Laughter (if you will) becoming and continuing to be a trend in Korean cinema as a whole from as far back as the New Korean Cinema wave of the late 90s and early 2000s.
While Parasite is a fairly light-hearted affair in tone with each and every one of its darkly comedic satirical moments hitting its mark to perfection (even to a laugh out loud level on more than one occasion) it does, too, make serious statements on the plight of those in Korea who find themselves stuck in a never ending loop of poverty.
Ultimately, Parasite's narrative (again effortlessly) moves between wickedly sarcastic to searing and poignant throughout, most notably in a scene featuring a torrential downpour and in the film's violent and bloody birthday party crescendo. However, whether Parasite is pulling at your heart strings or hitting you with a cinematic stick its exemplary drollness still underlines proceedings and combines with superlative performances from an absolutely top-notch cast to absolutely guarantee viewers will have smiles on their faces as they sit absolutely gripped on the very edge of their seats.


Summary:

While one would routinely expect a film from a director as well thought of and respected as Bong Joon-ho to be exemplary, Parasite not only virtually redefines that description but also raises the bar for other films and directors to aspire to. In short, miss this wry, insightful and masterful social drama at your absolute peril.
PARASITE (기생충) / 2019
Director: Bong Joon-ho
Starring: Song Kang-ho, Cho Yeo-jeong, Park So-dam, Choi Woo-shik, Lee Sun-gyun