"Why won't you say anything? You heartless man, say something! You were fine when you left this morning... Now what's all this?
Why did you even bring me here if you were going to leave like this? You heartless man! Say something! Say something!"


Synopsis:
An elderly woman, Soonie (Kim Yoo-mee), sits in a tranquil countryside area near a makeshift road. While she waits for the arrival of the local bus, she catches sight of the back of her aged hands – unable to answer the question of when exactly her skin became so old and "stone-like" and realising just how quickly the years of her life have flown by.
Taking a mental step back in time, Soonie begins to recollect the love and losses of her past and, once more, the long, winding and often difficult journey of her life begins to unfold...
Review:
Following this brief introductory scene (an extension of which is featured towards the film's conclusion, to give context in hindsight), we are transported back to 1920s Korea as sixteen-year-old Soonie is married to the ten-year-old son of the local village doctor.
Clearly, Soonie is apprehensive to almost the point of unwillingness, but one harsh look and nod from her soon-to-be mother-in-law tells us everything we need to know about the young girl's utter lack of options. And so begins her servitude to a child husband who cares nothing for her, under the matriarchal control of an all-powerful, unforgiving mother-in-law... or so it initially appears.
Co-written by director Bae Chang-ho and actress Kim Yoo-mee, My Heart consists of a series of episodes, if you will, that together not only tell the story of Soonie's life but also define who she is both as a person and indeed as a a wholly traditional Korean female. The majority of these life, and life-changing events are heralded (or concluded, depending on your perspective) by small connecting scenes showing our heroine walking alone through countryside vistas, hills and dales from one situation to the next, carrying the entirety of her belongings in her hands and the weight of the world on her shoulders – an almost literal view of the long and winding journey of her life.
What holds these various, separate life situations together is Soonie's empathy for, and understanding of, the wants and needs of others and how her heart rather than her head is continually the driving force behind her decisions, actions, reactions and the sacrifices she makes without hesitation. Whether witnessing a romantic, sexual tryst between her husband and a female 'friend' he's brought to his and Soonie's home and realising the two are soul mates (rather than exploding with anger and jealousy at her husband's betrayal); understanding the love behind a pottery maker's drunken decision to kidnap her rather than just ask her out; or indeed her empathy for the plight of a young woman stealing food from her home while on the run from an abusive man she'd been sold to over gambling debts, Soonie repeatedly shows that My Heart is the one and only title adequately fitting for a story of her heart-driven life.


Not only that, but to my mind it is no coincidence that Bae Chang-ho and Kim Yoo-mee chose to have the character of Soonie read Pansori tales and sing Pansori songs of love and loss throughout My Heart, regardless of the situation she's in or the person she's with, for this absolutely heartfelt tale of one woman's happiness, heartbreak and sacrifice is as touching and poignant as any Pansori story, in its own right.
The above said, My Heart is also deftly peppered with some genuinely funny moments – Soonie's ten-year-old husband's decision to urinate out of a window on hearing people outside eavesdropping on his marriage night with Soonie; Soonie continually stoking the fire beneath the room of her husband's female 'friend' (all the while muttering under her breath) to the point where the woman's floor is too hot to sit or even stand on; the pottery maker's morning-after shock to discover Soonie in one of his rooms, having no recollection of his drunken kidnapping of her; etc – all combining to ensure that heartbreaking though Soonie's story is on more than one occasion, it never feels heavy-handed or mired in gloom, at the same time virtually guaranteeing viewers will warm to the characters to the nth degree.
As if all that wasn't enough, My Heart also gives several snapshots of day-to-day life of the largely poor in historical, rural Korea; the numerous difficulties inherent to lives where survival is never a guaranteed commodity; and references to women's perceived and required place within both a traditional patriarchy as well as a matriarchal hierarchy, all wholly complementing depictions of situations Soonie and those close to her find themselves in without ever overshadowing or detracting from the main narrative - that being the story of Soonie's heart.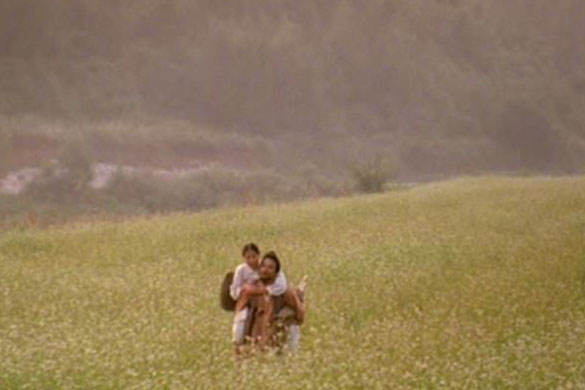 My Heart isn't a perfect film (if there even is such a thing): There are a couple of occasions where it's obvious we're watching actors acting; character depth could definitely have been far greater; and, in the case of the mother-in-law character, one particular interaction with Soonie seems rather odd and out of place when compared with other conversations and statements that occur in fairly close proximity to it. There have certainly been instances where such issues in a film have altered my overall feelings toward it, but My Heart's humour is so endearing, its narrative so engaging, and its heart so strong that in this case such imperfections stand as little more than minor niggles that I'm almost happy to let fly.


In 2009, Bae Chang-ho and Kim Yoo-mee joined forces once again to co-write The Trip, a cross-generational story set on beautiful Jeju island and once more featuring Kim Yoo-mee in an acting role. While the film details three stories of wholly separate individuals (young, middle-aged and elderly) over a short period of time rather than My Heart's focus on a single person's love and losses over many years, the seeming episodic nature of each alongside overall commentaries on life as a whole through episode combination results in the two films having a great deal in common (and that's a wholehearted compliment, by the way, and not a criticism on my part in any respect).
So much so, that in spite (or, perhaps, because) of the fact that My Heart is a story of historical, wholly traditional femininity while The Trip is a topical take on modern women in Korean society, one could almost be seen as a companion piece for the other and that's before we even consider the accomplished way in which each film uses settings and surroundings - whether sun-kissed and beautiful, or snow-filled and harsh - to accent and underline narrative events and character situations, to the extent that Korea's vistas almost become supporting characters in themselves.
Ultimately, viewers moved by My Heart cannot fail to become wholly invested in The Trip and vice versa, and that to my mind says a great deal for the writing talents of Bae Chang-ho and Kim Yoo-mee combined.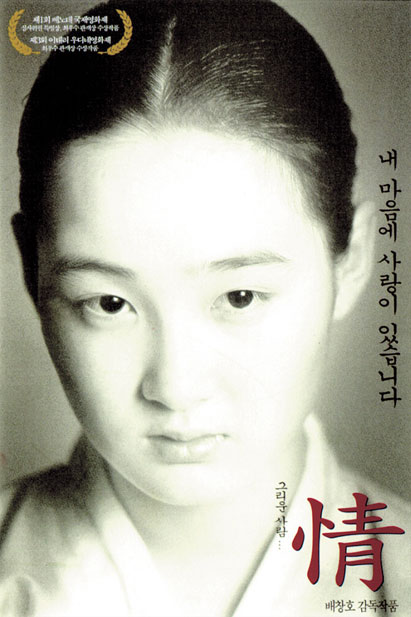 Summary:

Director Bae Chang-ho and actress Kim Yoo-mee's co-written narrative is sometimes gently funny, often heartbreaking and ultimately wholly uplifting. A story told with and showing so much genuine heart that My Heart is the only adequately fitting title.



MY HEART (정) / 1999 / Directed by Bae Chang-ho