LKFF2012 Film Screening Details
*Details and images courtesy (& copyright) of The London Korean Film Festival: *
http://www.koreanfilm.co.uk/
Also, many thanks to Kim Seong-jin of the Korean Cultural Centre UK, for supplying me with and allowing me to use her exquisite LKFF lanyard image, which you can see at either side of these pages.
The 7th annual London Korean Film Festival (LKFF) returns 1 - 16 November 2012 showcasing the very best Korean films, UK premieres and events with a diverse programme this year to build on the recent successes of Korea Shines Bright (100 days of Korean cultural events), and the fact that Korea ranked 5th place during the Olympics.
Ranging from gritty mystery thrillers to comedies and family animation films, and from art house gems to period dramas and sports films, the festival takes place in London (1 – 10th Nov) at the Odeon West End and ICA cinemas, and is on tour nationally (from 11 – 16th Nov) at the Glasgow Grosvenor Cinema, Bristol Cube and the Bournemouth Odeon.

The opening night Gala 1 Nov (Odeon West End), kicks off with the European premiere of the Korean box office heist smash hit, The Thieves with director Choi Dong-hoon, lead actor Kim Yoonsuk (who starred in the cult hit, The Yellow Sea) and actress Kim Hye-su  (known for Tazza: The High Rollers and The Red Shoes) Q&A's, and followed by a gala reception. The festival closes with another box office hit, the European premiere of historical drama Masquerade 16 Nov (Odeon West End), followed by a Q&A with Director Choo Chang-min and lead actor Lee Byunghun (star of I Saw The Devil), the latter who is currently in London shooting Red 2 with Bruce Willis and Anthony Hopkins.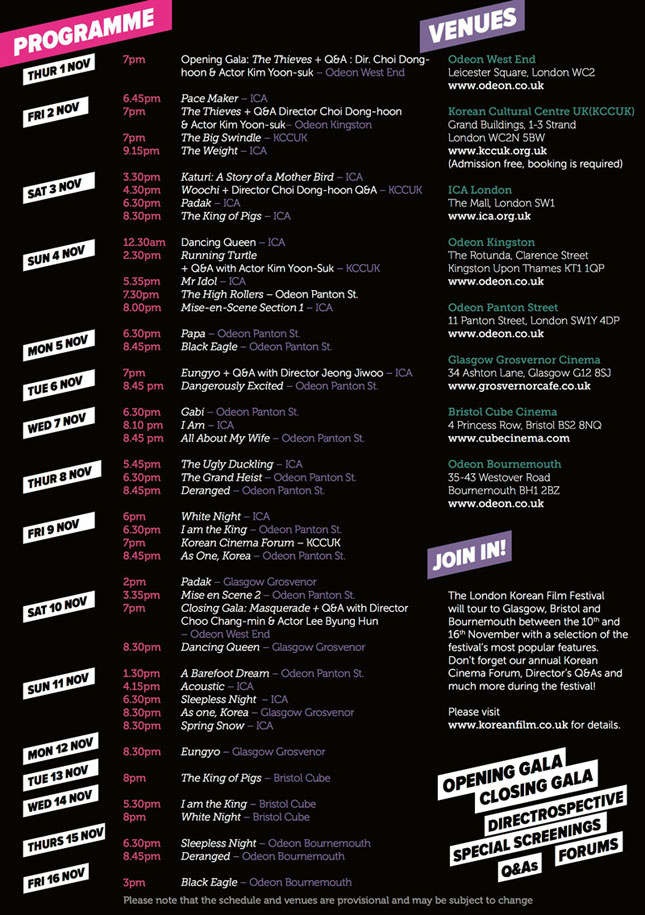 Further details of each of the films being screened (K-Category, Director, Year of Release, Genre, Cert and Running Time) can be found further down this page, below the official LKFF2012 festival trailer:



2012 London Korean Film Festival: Films Being Screened
Category

Title

Director

Release Year

Genre

Cert

Running Time

1

Opening Gala

The Thieves

CHOI Dong-hoon

2012

Crime, Action, Drama

15

135mins

2

K-Period Drama

I am a King

JANG Kyu-sung

2012

Comedy / Drama

12

120mins

3

K-Period Drama

The Grand Heist

KIM
Joo-ho

2012

Historical /Comedy

12

121mins

4

K-Comedy

Dancing Queen

LEE Seok-hoon

2012

Drama / Comedy

12

124mins

5

K-Comedy

All about My Wife

MIN Kyu-dong

2012

Comedy

15

121mins

6

K-Comedy

Dangerously Excited

KOO
Ja-hong

2012

Comedy

U

101mins

7

K-Pop

I Am

CHOI
Jin-seong

2012

Documentary

U

116mins

8

K-Pop

Acoustic

YOO
Sang-hun

2010

Drama

12

88mins

9

K-Pop

Mr Idol

RA
Hee-chan

2011

Music Drama

12

114mins

10

K-Pop

Papa

HAN
Ji-seung

2012

Family / Comedy

12

118mins
11

K-Art House

Mise-en-scene Part 1
Keep Quiet

HONG
Seok-jae

2011

Short Film

15

29mins

12

K-Art House

Mise-en-scene Part 1
Feeling of Winning

HAN
Seung-hun

2011

Short Film

15

24mins

13

K-Art House

Mise-en-scene Part 1
Forest

UM
Tae-hwa

2012

Short Film

15

32mins

14

K-Art House

Mise-en-scene Part 1
Anesthesia

KIM
Seok-young

2011

Short Film

15

23mins

15

K-Art House

Mise-en-scene Part 1
A Flower Does Not Wilt, but...

OH
Tae-hoon

2012

Short Film

15

24mins

16

K-Art House

Mise-en-scene Part 2
Noodle Fish

KIM
Jin-man

2012

Short Film

15

10mins

17

K-Art House

Mise-en-scene Part 2
Poison Frog

KOH
Jung-wook

2011

Short Film

15

31mins

18

K-Art House

Mise-en-scene Part 2
My Fighting Life

KIM
Do-young

2011

Short Film

15

39mins

19

K-Art House

Mise-en-scene Part 2
Min-ho Win!

JUNG
Jae-woong

2012

Short Film

15

40mins

20

K-Art House

White Night

LEE Song
Hee-il

2012

Drama

18

78mins

21

K-Art House

The Weight

JEON
Kyu-hwan

2012

Drama

18

121mins
22

K-Art House

Sleepless Night

JANG
Kun-jae

2012

Drama

15

65mins

23

K-Sports

Pace Maker

KIM
Dal-joong

2012

Drama

12

124mins

24

K-Sports

As One, Korea

MOON
Hyeon-seong

2012

Drama

12

127mins

25

K-Sports

Barefoot Dream

KIM
Tae-gyoon

2010

Drama

U

121mins

26

K-Animation

King of Pigs

YEON
Sang-ho

2012

Thriller /Animation

18

97mins

27

K-Animation

PADAK

LEE
Dae-hee

2012

Animation /Music Drama

12

78mins

28

K-Animation

Katuri – A Story of a Mother Bird

JUNG
Gil-hoon

2012

Animation

U

28mins

29

K-Mystery

Gabi

JANG
Yoon-hyeon

2012

Drama Mystery

15

115mins

30

K-Mystery

Deranged

Park Jun-woo

2012

SF, Horror Mystery

15

109mins

31

K-Spotlight

A Muse

Jeong
Ji-woo

2012

Romance
Drama

18

129mins
32

K-Spotlight

R2B: Return to Base

KIM
Dong-weon

2012

Drama Action

15

113mins

33

K-Spotlight

The Ugly Duckling

KWAK
Gyeong-taek

2012

Drama

15

96mins

34

KIM
Yoon-suk

Running Turtle

LEE
Yeon-woo

2009

Action
Crime

15

117mins

35

Directrospective

The High Rollers

CHOI
Dong-hoon

2006

Action
Crime

18

139mins

36

Directrospective

Woochi

CHOI
Dong-hoon

2009

Action, Comedy Fantasy

12

136mins

37

Directrospective

The Big Swindle

CHOI
Dong-hoon

2004

Crime Thriller Comedy

18

116mins

38

Closing Gala

Masquerade
Closing Gala

CHOO
Chang-min

2012

Epics/ Historical

15

131mins
London Korean Film Festival screenings being held at the ICA London are now available to book at http://www.ica.org.uk while Screenings at the Odeon West End will open for booking on 25th October at http://www.odeon.co.uk/fanatic/film_times/s139/London__West_End/