"Years ago, my aunt hanged herself from that tree outside my window.
On moonless nights, I sometimes still see her ghost hanging from its branches..."


Synopsis:
Hideko (Kim Min-hee) is a troubled young woman who, since the suicide of her aunt (Moon So-ri), has lived a secluded, virtually captive existence on her pro-Japanese uncle's (Cho Jin-woong) estate, her sadistic relative regularly forcing her to read pornographic literature to groups of men bidding for ownership of the books at auctions held in his palatial residence. Her only real interactions, aside from her uncle whom she despises, are with her new handmaiden, Sook-hee (Kim Tae-ri), and Count Fujiwara (Ha Jung-woo), a forceful man who is determined to court Hideko and convince her to marry him. Things, though, are far from their outward appearance. Sook-hee is in reality an orphaned pickpocket who has been installed as Hideko's handmaiden by the (fake) Count – a Korean conman – to help him in his true quest to marry Hideko, have her declared insane and committed to a mental asylum, and to take her inheritance for himself.
However, as Sook-hee and Hideko spend ever increasing amounts of time together a sapphic fire begins to burn within them, putting Fujiwara's self-serving plan in jeopardy and creating a sexual yearning within the women for each other that will only be sated by a physical, emotional and even spiritual joining of body, mind and soul...
Review:
'The Handmaiden' is split into three parts. Parts one and two tell the story to a specific, pivotal point from Sook-hee and Hideko's perspective, respectively, while part three continues the narrative initially from Fujiwara's point of view and subsequently concludes the tale. Telling a story consecutively from different perspectives would in lesser hands be a dangerous game to play, threatening a feeling of lying by omission. But let's not forget this is a Park Chan-wook film and as such the move is handled to perfection, viewers gradually discovering the true state of play as specific characters themselves do and allowing the uncovering of layer upon layer of changing emotions, allegiances and betrayals with ease.
While 'The Handmaiden' is without question a beautifully intricate psychological thriller, it is at its very core a deeply sensual love story and sumptuously erotic tale of sapphic sexual awakening, and from the earliest stages of the film, that burgeoning passion is alluded to in no uncertain terms. Shortly after starting her job as handmaiden, Sook-hee is helping Hideko bathe when her naked mistress (in the sense of a boss/employer at this stage) almost in passing complains that a sharp tooth keeps cutting her mouth. Without hesitation, Sook-hee rushes off quickly returning with a metal thimble on her thumb. Slowly, tentatively, seductively she inserts her thumb into Hideko's mouth and gently moves the thimble back and forth over the tooth to smooth its rough edge, the two women's gaze locked on each other wholly and completely. An obvious allegory it may be but this early scene perfectly accents the yearning Hideko and Sook-hee feel almost before they even consciously realise it themselves.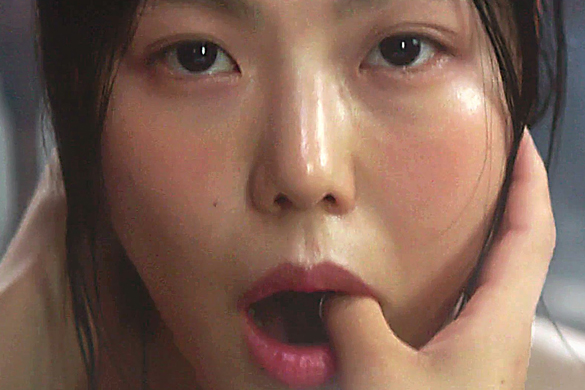 Throughout the first part of 'The Handmaiden', Sook-hee's changing, growing feelings for Hideko (and her increasing animosity towards Fujiwara) are shown through brief self-narrated thoughts, dialogue stating her incredulity at Hideko's physical beauty as well as visual 'statements' such as her huffy stomping around and her hurling of paint canvases etc when she sees what appears to be Hideko succumbing to Fujiwara's advances, her yearning inexorably building to an almost palpable level. Part two similarly focuses on the burgeoning relationship from Hideko's perspective, while filling out aspects of the overall narrative.
All of the above ensures that when the fairly explicit sexual scenes do take place, they appear as uncontrollable yearnings coming to fruition (as opposed to simply lustful dalliances) and as such they are wholly necessary, emotionally empowering and indeed vital to the story, rather than being simply gratuitous. These scenes are not titillation, they are deeply erotic unbridled sensuality with both a pupose and an emotional depth.

However, it is in Part Three that Park Chan-wook finally unveils his overarching statement on the sexuality of 'The Handmaiden' (though there are subtle pointers to it throughout):
We are shown one of the book auctions where Hideko reads deeply explicit pornographic literature to a number of well-to-do men, including Fujiwara. Sitting in a darkened room – the only (bright) light being on Hideko as she reads – these baying, lustful males almost salivate on mention of beckoning Jade Gates; hairless, snow white flesh covered in dew; and giggle like immature, self-obsessed adolescents at repeated use of the 'C' word in a sexual sense. This deliberately salacious scene and the pornographic terms spoken within it are the polar opposite to scenes of Hideko and Sook-hee making love, their scenes bathed in warm romantic lighting, their statements speaking of physical beauty, emotional longing and joining and the 'C' word they use being 'cute', regardless of how explicit the visuals may be and indeed are. For a long time in Korean cinema, alternative lifestyles and same sex relationships were at the very least frowned upon, at the worst absolutely taboo. With the stark contrast of the crude male leering against the female longing gaze, Park Chan-wook is clearly stating that love must always be celebrated while lewd lecherousness is in truth the real unacceptable face of sex.
From a personal point of view as a male sitting in a darkened cinema watching sexual content on a bright screen, an uncomfortable comparison to those men in the shadows staring at Hideko bathed in light telling pornographic stories can't be denied and clearly it was Park Chan-wook's deliberate intention to place cinema viewers directly into seats in that darkened room with those lecherous men. Again by contrast an entirely different atmosphere came when watching scenes of Hideko and Sook-hee together, any uncomfortable thoughts of voyeurism replaced with a feeling of gazing upon sheer beauty, both physically and emotionally.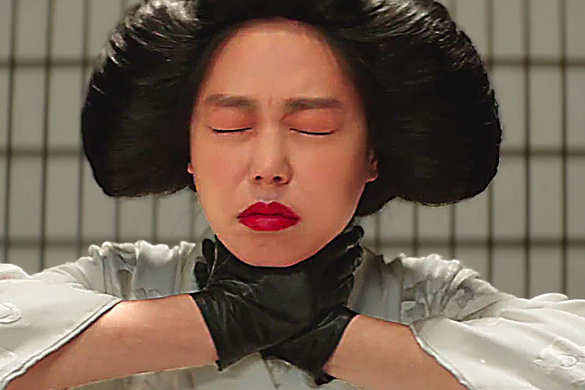 For 'The Handmaiden' Park Chan-wook has once again teamed up with production designer Ryu Seong-hie and cinematographer Chung Chung-hoon - two consummate professionals who have shaped the visual beauty of a number of Park's films. Together they ensure that every set, every outdoor vista, are as stunningly beautiful as the love between the two women. Park Chan-wook's films are almost always visually arresting and in 'The Handmaiden' that is true to the nth degree. Add to that a thrilling, often mesmerising narrative with surprising twist following unpredictable turn and all in all 'The Handmaiden' shows itself to be a power house of a film that grips to the very last frame.

As a final note:
'The Handmaiden' is loosely based on writer Sarah Waters' novel 'Fingersmith', the narrative shifted from the British Victorian era to Japan-occupied Korea. The adaptation Park Chan-wook has created fits absolutely perfectly with other Korean stories of the era and the multilayered depth of its tale - both light and dark - sits atop the very best of Korean cinema. So much so, in fact, that on more than one occasion I would have almost believed that 'The Handmaiden' was an updated version of a classic Pansori tale rather than an originally British story. And that stands as just one more accolade for an utterly masterful cinematic work.

Summary:

Park Chan-wook's 'The Handmaiden' is a masterful film contrasting dark with light and (male) lecherous ugliness with (female) emotional beauty in a multilayered tale of immaculate depth and indeed meaning. Ultimately, 'The Handmaiden' sits atop the very best of Korean cinema, both in terms of narrative content and visual sumptuousness.
The Handmaiden (아가씨) / 2016 / Directed by Park Chan-wook