"Is it possible to use a painting to confess?"


Synopsis:
Gye-choon (Yoon Yeo-jeong) has taken care of her young granddaughter, Hye-ji, since the child's mother ran off without explanation and her father – Gye-choon's son – passed away. Though advancing in years, Gye-choon has continued to work as a haenyeo (female diver) in the waters near her Jeju island home in order to give Hye-ji – on whom she absolutely dotes – the best life she possibly can. While shopping at a street market on a blissfully sunny day, Gye-choon lets go of Hye-ji's hand for just a moment and to her utter dismay when she turns around the child is nowhere to be seen and though she desperately searches high and low her efforts are to no avail.
Twelve long years pass with no word of whether Hye-ji is alive or dead, until a phone call is received out of the blue saying the missing girl (now played by Kim Go-eun) has returned to Jeju just as suddenly as she vanished.
However, having spent years as a 'street kid' in Seoul, this now young woman is far from the innocent, happy-go-lucky child Hye-ji once was. Not only that, but as Gye-choon, overjoyed, tries to reconnect with Hye-ji, little does she know that within the young woman's emotional baggage and beneath her psychological scars lies a shocking secret...
Review:
The first half an hour of 'Canola' is split into two sections of pretty much equal length. The first of these gives an overview of Gye-choon and her granddaughter's life together prior and up to Hye-ji's disappearance. As is the case in any number of Korean films set in Jeju and/or featuring female diver characters ('The Trip', 'My Mother the Mermaid, etc.), 'Canola' uses the sheer physical beauty of the island to add to the sweet, warm tone of the early narrative. Flower-filled fields bathed in sunshine, rolling countryside vistas, azure waters and (later) seemingly luminous underwater coral all give an idyllic feeling, visually underlining the gentle, loving beauty of Hye-ji's early, happy life with her grandmother.

In stark contrast, the second half of the film's first 30 minutes details the harsh reality of Hye-ji's life in Seoul, 12 years down the line. Concrete greys and darkened rooms abound (the room she shares with her friend Min-hee has had its electricity cut off), and within this visual bleakness we watch as the two girls regularly steal from shops, not to mention seeing Hye-ji being convinced by two male 'friends' to pretend to be a prostitute in order to ensnare a man with the aim of blackmailing him for attempting to have sex with a minor. In fact, that blackmail attempt leads directly to Hye-ji's decision to leave Seoul and travel to Jeju to find Gye-choon but that too may well have an extra layer of darkness attached to it, as we later discover.
Both these early segments end with scenes filled with copious amounts of tears – tears of despair as Gye-choon realises little Hye-ji is missing, and tears of joy when she's finally able to stand in front of the teen 12 years later – and as such 'Canola' reveals its raison d'être almost from the outset. For here we have a film that is unashamedly a tearjerker, many of the most emotional moments coming when darkness, life and events outside Jeju collide with the love and beauty within the island.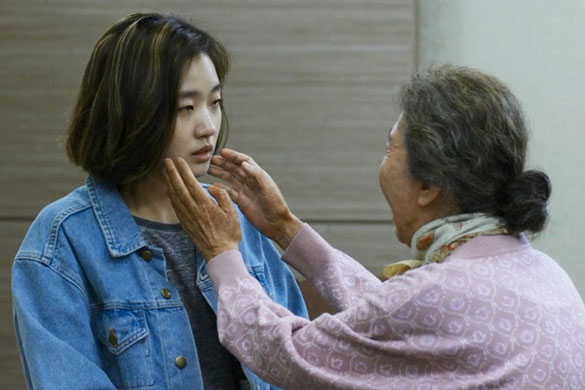 As Hye-ji tries to settle into a rural life on Jeju, 'Canola' focuses on three main relationship threads – Hye-ji and Gye-choon, Hye-ji and her school art teacher (played by actor/director Yang Ik-june, who many of you will know from 'Breathless'), and Hye-ji and fellow school pupil Han (played by K-pop group Shinee's Choi Min-ho). Of these, the bonding between Gye-choon and Hye-ji (and Gye-choon's unconditional love for her) is, of course, the most important but each has its part to play in Hye-ji gradually opening up and in giving her options and indeed the chance to turn her life around through her growing artistic talent.
When Hye-ji (as a young woman) first arrives in Jeju, she is emotionally completely closed: On attending school for the first time, she is asked to introduce herself to which (without even saying her name) she simply, gruffly states "I haven't been to school much, so don't give me a hard time!"; she refuses to paint on demand; and if she is unhappy with a situation she's as likely as not to stamp her foot, exclaim "I quit!" and storm off. Over time, Hye-ji gets to the point emotionally where is trusting enough to ask her art teacher "Is it possible to use a painting to confess?". A huge step forward, the only question remaining being whether she'll be able to open up enough to reveal the secret that haunts her every move. Ultimately, with the changes in Hye-ji's attitude brought on by the Gye-choon's love and the respect given to her by her teacher - and indeed what she brings to them in return - 'Canola' deftly gives a heartfelt and poignant definition of what family truly is.
In terms of the tear-jerking, melodrama elements of 'Canola' single-monikered director Chang (probably best known for his 2008 horror debut 'Death Bell') does have a tendency to produce scenes that virtually scream "Ok, this is where you have to cry" - the camera panning out towards the ceiling with Gye-choon alone at a dinner table, framed staring upwards to emphasise her loneliness; Gye-choon running in slow motion through the market looking for Hye-ji, dialogue replaced with emotive music; etc. - in places where the narrative is already moving and emotive enough to warrant a tear without forcing the issue. What makes these scenes work in spite of what could perhaps be deemed as manipulation are the astonishing performances given by actresses Yoon Yeo-jeong and Kim Go-eun. With Yoon Yeo-jeong being such a high calibre veteran actress she can virtually be guaranteed to make any project in which she's involved both noteworthy and memorable, while Kim Go-eun has in a far shorter career repeatedly shown what a absolute powerhouse of Korean cinema acting talent she is quickly becoming. That being the case, it almost goes without saying that the chemistry between Yoon Yeo-jeong and Kim Go-eun is so strong it's utterly palpable throughout 'Canola', raising the effectiveness and affectiveness of the entire story to the nth degree. If you need one reason to seek out 'Canola', that reason is without question the phenomenal performances of Yoon Yeo-jeong and Kim Go-eun, both separately and together.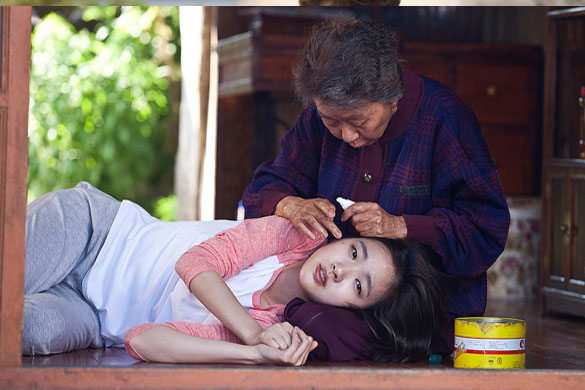 Summary:

Featuring powerhouse performances from actresses Yoon Yeo-jeong and Kim Go-eun, 'Canola' is an unashamed tearjerker that gives a heartfelt and poignant definition of what family truly is.
Canola will be screened as part of the 2021 London Korean Film Festival on 6 Nov at the ICA in London (6.45pm)
Booking and further information:
https://www.koreanfilm.co.uk/events/canola/


CANOLA (계춘할망 / 2016)
Directed by Chang; starring Yoon Yeo-jeong & Kim Go-eun