The following two reviews combined serve as an overview of the recent Terracotta Distribution 'Kim Ki-duk Collection' boxset (Region 2) DVD release; comprising of his first feature from 1996, 'Crocodile', and his soul-searching and cathartic 2011 film 'Arirang'. I would sincerely like to thank Terracotta Distribution for providing me with the DVDs for review purposes:


"Death is just white becoming black."

Background:
Any discussion of the resurgence of Korean Cinema that began with an influx of new, younger filmmakers in the late 90's almost cannot fail to bring with it mention of Kim Ki-duk. A hugely influential and controversial director, a large number of his films have been released all over the world, in part because of their often 'extreme' content and subject matter and, in the West, DVDs of many of his films were originally released under the Tartan 'Asia Extreme' label specifically for that reason.
However, while this has resulted in a worldwide following and fanbase, the reaction of the Korean film industry, film critics, and even the general public in Korea has been less complimentary with accusations of misogyny, criticism of his depiction of women and even utter panning of his directorial style becoming almost commonplace over the years, to the extent that the director at one stage announced that he wouldn't release any more of his films in his home country.
Step forward to 2011, and Kim Ki-duk has been conspicuous by his absence in the film industry for almost three years, largely refusing to give interviews or even appear in public at film events and screenings, leading many to ask if he was regrouping; simply preparing for his next project; or if he had, in fact, turned his back on filmmaking once and for all.
Review:
It is at this point in time that we join Arirang to find a long-haired and rather unkempt Kim Ki-duk living an utterly isolated existence in a run-down cabin deep in the countryside, with no central heating (the inside of his home being so cold that he has to sleep in a tent in the main room to keep warm), no running water, no inside toilet and only his cat and the thoughts in his head for company. And what thoughts they are...

The first fifteen minutes of Arirang bring us face-to-face with the director's current day-to-day life at the time of filming, and I use the word 'life' in its loosest possible context here as 'existence' would be far more accurate - his waking hours being filled with little more than cooking food, cutting fire to burn, digging a hole in the ground to use as a toilet and staring into the distance from his doorway. There is almost no dialogue in this section of the film save for Kim Ki-duk talking to, and imitating, his cat, and as such we are left in no doubt whatsoever as to how utterly cut off from the outside world his self-imposed exile truly is.
Though Arirang is largely a documentary, there are elements of fictional drama present even at this early stage with Kim Ki-duk being plagued by sounds of knocking on his front door each time he goes to bed in his tent but finding no-one there when he gets up and goes to check - his subconscious guilt, regret and bitterness knocking on the door of his conscious mind, if you will.
| | |
| --- | --- |
| | |
From here, the film switches to a Kim Ki-duk interview with himself - the director playing the part of interviewer (both as an inquisitor, with his hair tied back, and as Kim Ki-duk's shadow), interviewee and viewer watching the finished film, and it is at this point in proceedings that Arirang really takes off as the film gradually strips away his surface persona to reveal the broken man beneath.
While this ongoing interview is filmed as a series of monologues between the 'characters', filmed from two angles on a single static digital camera and intercut to form a back and forth question and answer session it, at the same time, feels like the visual switching between a character's various psychological frames of mind seen in so many films from across the world (used to visually depict a fractured mind), and as such, Kim Ki-duk's conversation - jumping from justification of his past decisions and work; to regret relating to an on-set accident during the making of Dream which almost resulted in the death of the lead actress by hanging; to feelings of betrayal, venomous spewing of expletive-laden vitriol and a growing desire for revenge - cannot fail to bring viewers to the realisation that they are looking at a man on the very edge of falling apart.


| | |
| --- | --- |
| | |
And fall apart he does, while singing an acapella version of the song Arirang - Korea's unofficial anthem that has clearly become something of a mantra for Kim Ki-duk. Though he later brings the truth of these floods of tears into question by asking viewers to judge whether they were real or, in fact, just an example of his acting skill, they are so clearly genuine as to leave little doubt that his later comments are simply a smokescreen intended to hide the fact that we've just witnessed his heart truly breaking, and understandable though his protestations are, nothing can detract from the utter poignancy of that deeply moving scene.
Following the interview, towards the film's conclusion, Kim Ki-duk steps fully into fictional drama mode and we watch as he slowly loads a homemade silver gun and heads out to the city in his car... but any further comment would risk destroying the sheer power of those final scenes.
It could, of course, be said that Kim Ki-duk's decision to make Arirang was as egotistical and self-obsessed as it was a search for catharsis but it deftly serves its purpose regardless of which you believe, and it does have to be said that three years spent living the way he was - the only voices heard being those in his head - could ever so easily have pushed him right past egotism and into madness, save for his desperate need to make a film... this film.

| | |
| --- | --- |
| | |
Summary:

Arirang is a deeply personal search for catharsis from a director frozen by how he feels he's been treated by the film industry and, regardless of whether or not you are a fan of his work, it stands as an utterly unmissable example of his talent. To my mind, at its time of making Arirang was quite simply Kim Ki-duk's best film to date.


DVD Special Features:

- Arirang Trailer
- Terracotta Far East Film Festival 2012 Montage
- About Terracotta
- Photo Gallery
- Breathless Trailer
- Return to Burma Trailer
- Petty Romance Trailer
- God Man Dog Trailer



Synopsis (courtesy of Terracotta Distribution):
Kim Ki-duk's debut feature 'Crocodile' is a study of violence in South Korean society and is frankly unlike any other Korean films made before it.
'Crocodile' depicts the life of a violent thug, the titular character played by Cho Jae-hyeon, who lives with a peddling boy, Ahn Jae-Hong, and an old man, Chun Moo-song, by the banks of the river Han in Seoul; a popular suicide spot.
Homeless Crocodile makes a living by robbing the dead bodies of those who commit suicide by jumping into the river and on saving a suicidal young woman, Woo Yoon-kyung, from drowning (another suicide victim he was planning to rob) he takes her back to his place of residence; but only to use her for sex. Keeping her there, initially against her will, he quickly develops an abusive relationship with her.
However, despite his temper and violence, an inextricable bond soon begins to form between him, his lover, the boy and the old man…
Review:
Though Crocodile was director Kim Ki-duk's debut feature, it nonetheless contains a number of elements and narrative themes that would later become almost his trademarks - certainly in the harder hitting of his films - and, as such, Crocodile is far more likely to polarize viewers than the soul-searching Arirang (2011); the other feature on this DVD boxset. While Kim Ki-duk has a plethora of ardent fans who clamour for every frame he directs and won't hear a single bad word said against him or his work, equally he has his many detractors who have little time for either his narrative style or his depictions of characters; especially those of females.
Like the protagonists in a number of later Kim Ki-duk films, homeless thug Crocodile outwardly seems to be little more than a self-serving, vicious and nasty piece of work but as the narrative unfolds we gradually begin to see further depths to his nature; albeit controlled by the ideology of "a violent life begets a violent life". Ultimately, his, almost, disdain for life (both that of others and even his own) serves to lead him to the conclusion of his character arc - his destiny, if you will; inherently thought-provoking as it is.
| | |
| --- | --- |
| | |
Over the years, one of the many criticisms levelled at Kim Ki-duk is the claim that his film narratives often positively scream of misogynism in their depictions of women and in the suffering he puts female characters through, but while Crocodile's sub-plot of a young woman saved from suicide only to become a victim of rape and abuse at the hands of a man she later falls in love with could be said to be guilty of the same (certainly to those who listen to Kim Ki-duk's critics), it actually suits the overall story and underlying themes to the extent that it feels not only natural to proceedings - difficult and uncomfortable though it may be - but also entirely necessary to this story of a man whose (implied) violent past combined with the difficulties (again implied) that have been put in his path by society have not only caused him to end up homeless but also left him largely unable to separate violence from his other emotions; regardless of the fallout and consequences those around, and closest to, him must face as a result.

One issue I personally have with some of Kim Ki-duk's work (though as I write this I can almost hear the gasps of incredulity at me having the utter audacity to say what I'm about to) is his tendency to make narratives jump through hoops to a degree to specifically put characters - again often females - in peril or into situations of extreme suffering; even if that means the narrative flow jars somewhat to achieve the director's ends. However, thankfully the plot of Crocodile is free of any such contrivances and is, as such, all the more believable and dare I say gripping.

| | |
| --- | --- |
| | |
Finally, special note should be made of the deftness with which Kim Ki-duk references family and familial bonds in Crocodile. The perceived importance of stability within family has long been a staple of Korean cinema with an utter plethora of films (right from the Golden Age of the 50s and 60s to the present day) referencing the idea that should the family unit begin to disintegrate so too will the lives of the members of that family and even the implication that an individual who destroys family is inherently of a dubious nature; often even evil.
By creating inextricable bonds between the main characters of Crocodile - a man, a woman, a child and an old man - Kim Ki-duk shows our band of homeless individuals to be as much a family as any family unit you could mention and allows him to point to the implication that, dysfunctional though it may be, this unit is no less valid than other more archetypal depictions of family in films and culture throughout the years.
In fact, it could even be said that Kim Ki-duk is telling us that no family unit is as pure, stable and "normal" as society would have us believe.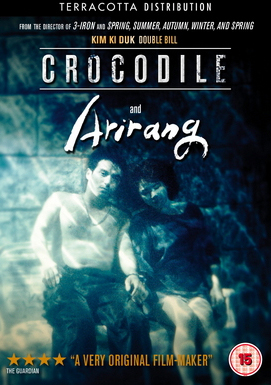 Cast:

Cho Jae-hyeon, Ahn Jae-Hong, Woo Yoon-kyung, Chun Moo-song


Summary:

Though 'Crocodile' was Kim Ki-duk's debut feature, it positively screams of themes, narrative elements and directorial style that would almost become his trademarks over the years. A gripping story, both because of and in spite of its violence, Crocodile is a must for those who wish to see the early, burgeoning talent of one of Korea's most controversial directors.


DVD Special Features:

- Terracotta Far East Film Festival 2012 Montage
- About Terracotta
- Photo Gallery
- Arirang Trailer
- Breathless Trailer
- Return to Burma Trailer
- Petty Romance Trailer
- God Man Dog Trailer


All images © Terracotta Distribution
Review © Paul Quinn